The diet I follow is based on a few simple principles that I use.
I eat only fresh organic produce and organic meat, olive oil, coconut oil and gee.
I divide vegetables into 2 groups:
high calorie density starchy vegetables: potatoes and sweet potatoes

low calorie density vegetables: any other vegetable
I have found that eating a high quantity of starch at once is likely to encourage the growth of unwanted microorganisms in the guts such as candida and other opportunistic or pathogenic microorganisms.
However, if the starch is consumed alongside a high amount of non-starchy vegetables, the fibre feeds probiotic microorganisms and prevents the overgrowth of unfavourable microbes.
So I follow this rule.
I put on the plate ½ potatoes/sweet potatoes + ½ other vegetables
(for each dose of potatoes - in volume- eat the same amount of non-starchy vegetables)
Fibre and chlorophyll ( the green pigment found in plants) bind toxins that come out in the bile.
Excretion in the bile is a major route of detox both for biotoxins and chemical toxicants. If there isn't enough fibre to absorb these toxins, they get reabsorbed into the body and recirculated.
This is especially important when eating a high-fat meal, which will trigger the release of a lot of bile.
Fat can also dissolve toxins produced by gut microbes that will be absorbed into the body if there isn't enough fibre present.
I make sure to eat plenty of non-starchy vegetables when eating a high amount of fat, especially raw leaves
I find in my experience that the fibre present in raw vegetables is changed in the cooking and has different properties.
So I try to eat as much quantity of raw vegetables as I can, as this form of fibre seems to absorb toxins better.
I try to eat raw at least ½ of all the non-starchy vegetables I eat
Fats are essential nutrients to rebuild the nervous system and the brain, which get damaged by toxins.
So I eat plenty of healthy fats – olive oil, coconut oil, gee and lamb, goat and beef fat (present in the organic meat).
Eating a good amount of fat alongside starch will help slow down the digestion of starch and prevent blood sugar spikes.
It is also important to eat enough protein to rebuild the body systems that have been damaged by illness. Too much protein, however, can result in toxicity for the kidneys.
I follow my protein cravings to decide how much protein I need

(this usually amounts to about 250g of meat a day, and not every day)

I make sure to eat plenty of non-starchy vegetables (at least 2/3 of the volume on the plate) with a protein meal, especially leafy greens - this prevents negative effects on the gut flora and production of toxins by gut microbes when they process protein
I find that eating starch and protein together makes the meal harder to digest and results in digestive discomfort and toxicity. So I follow this rule:
I do not eat potatoes/sweet potatoes and meat (or other protein sources) at the same meal
Raw cabbage juice has literally saved my life when I had a terrible gut infection that left me unable to eat and in excruciating pain.
Cabbages are very nutritious food, rich in vitamin K and C and many others. They support a healthy digestive system and help heal ulcers and infections.
You can read more about the properties and benefits of cabbage here: The worlds healthiest foods: cabbage
I eat a high amount of different kinds of cabbage every day. Red and white cabbage can be eaten raw, but it is best to cook green cabbage leaves to reduce the amount of oxalic acid (which triggers inflammation in the body) and make them easier to digest.
Red cabbage is especially beneficial due to the purple pigment.
I also eat as many greens as I can, both because this is the best source of folate, a fundamental vitamin for detox, and also because chlorophyll is a very good toxin binder.
Collard greens (a traditional staple food in Portugal) are particularly good for detox, as well as turnip greens.
I love edible wild greens and I have learned to recognise some of them by learning from other people with experience. I include them in my diet as much as I can and I follow my cravings on what to eat.
Wild plants generally are much more nutrient-dense than cultivated plants and provide a variety of nutrients not found in domesticated plants.
I highly recommend that you learn how to pick edible wild greens from someone experienced in this and use this valuable resource for healing if you can.
I believe our body is designed to heal and will heal beautifully when we give it the nutrition and clean environment it needs to do so. I trust my body and follow my intuition about what I need to eat and when.
This diet I came to is based on how my body feels when I eat different things and I have learned to follow the rules I present here, as part of what my body asks for and what makes me feel good.
I hope this information might inspire you try new things and to follow what your own body is telling you and to find the perfect diet for you and your needs.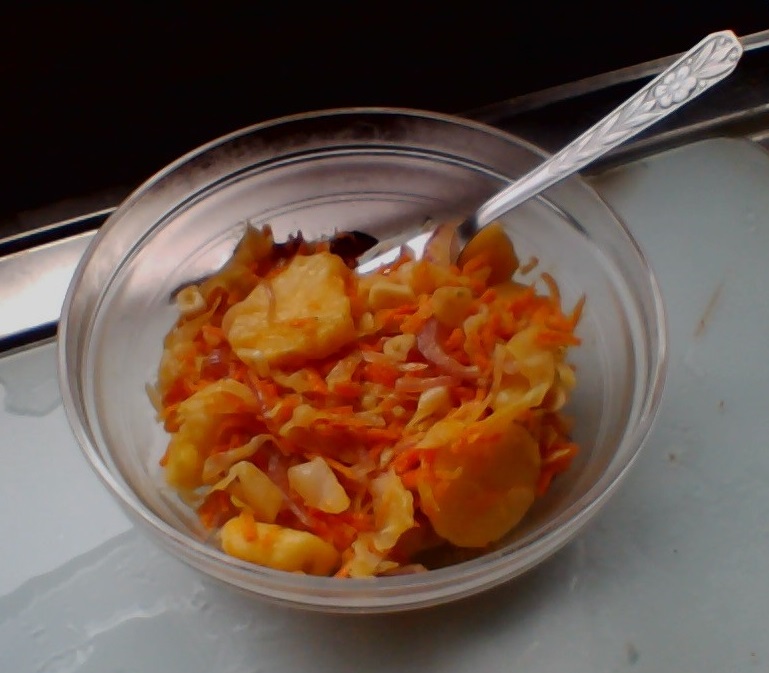 "TudoFresco" means "allfresh" in Portuguese. This is what I am calling the diet I am following now: consisting of only fresh and organic vegetables, fruits and meat; it includes also olive oil, coconut oil and gee.
This diet is zero gluten, grain-free, factory-free, low in mycotoxins and full of nutrition. It has allowed my guts to heal from a very bad infection and keeps me feeling good and detoxing everyday.
I love to eat and I love to enjoy healthy and tasty meals everyday. It is also very nourishing for the soul.
ENJOY!